One more time:
A daft punk farewell fanzine
Information page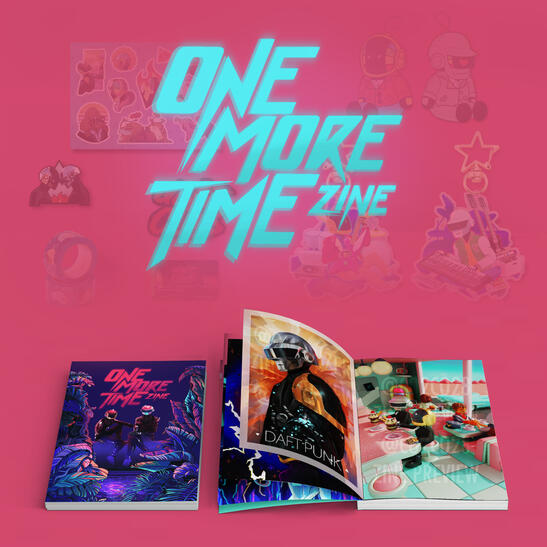 ---
This is a fan zine celebrating French electronic duo Daft Punk's near 30 year long career in light of their recent retirement. All profits from this zine will benefit The Trevor Project, a suicide hotline for LGBTQ youth.

This zine features 45 individual artists contributors and over 50 hardworking participants total. The art book contains 70+ pages of original artwork and the zine bundles come with items such as pins, stickers, plush keychains and more!

Our official partner is Veridis Quo Design, who also provided our two pins and patch. Our zine and its merch bundles will be available exclusively through their website for a second round of preorders opening January 28.

Make sure to follow our social medias for updates!
Page last updated 01/19/2021
---
---
STAFF
Organizer:
Artie (she/they) @sodasprouts
EMAIL CONTACT: [email protected]

Finance:
Max (he/they) @frosted_max

Administration:
Shayna (she/her) @shaynatwriting

Beta:
Ivan (they/xe) @equtii

Graphics
Lewis (he/they) @Oscarman97

Intern/Support:
Cris (she/they) @bluespacebirb
George (he/they) @neon_gay
Scratchin (he/him) @scratchin909
Trevor (any) @HouseofDaftPunk
schedule
| DATE | TRANSMISSION |
| --- | --- |
| ✓ MARCH 5 | Interest form closes |
| ✓ MARCH 10 | Moderator forms close |
| ✓ MARCH 15 | Artist applications open |
| ✓ APRIL 15 | Artist applications close |
| ✓ APRIL 20 | Artists are notified |
| ✓ APRIL 25 | Accepted artists form due |
| ✓ APRIL 30 | Artist list goes live |
| ✓ MAY 5 | Idea check |
| ✓ JUNE 1 | Check-in #1 |
| ✓ JULY 1 | Check in #2 |
| ✓ AUGUST 1 | FINAL check-in |
| ✓ AUGUST 30 | Contributions due |
| ✓ SEPTEMBER 25 | R1 preorders open |
| ✓ OCTOBER 31 | R1 preorders close |
| ✓ NOV 1-DEC 16 | R1 production and fulfillment period |
| ✓ JAN 28 | R2 preorders open |
| ✓ FEB 28 | R2 preorders close |
applications
---
ARTIST APPLICATIONS HAVE CLOSED
Applicants: remember to check your emails!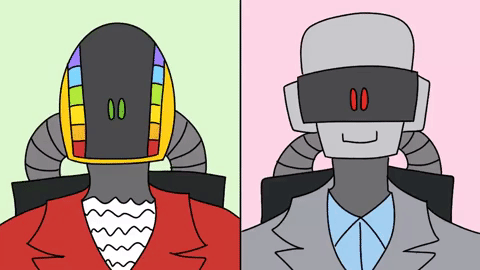 FAQ
General △ Artwork submissions △ the zine
---
△general△
-WHAT IS A FANZINE?
A fanzine is a type of self-published booklet that is produced by fans for any form of entertainment.
-WHAT IS THIS ZINE ABOUT?
The One More Time zine seeks to pay tribute and act as a send-off to the robots we all know and love in wake of their retirement.
Daft Punk inspires us to create, so this zine is full of art from fans and artists who want to give them the best goodbye possible and look back on the impact they've had since their humble beginnings in 1993.
-IS THIS ZINE FOR PROFIT?
This zine is a nonprofit project. All profit is donated to The Trevor Project, a suicide prevention line for LGBTQ teenagers.
Since this is both a charity endeavor and a passion project, artists are compensated for their involvement with a complimentary copy of the finished products.
---
△artwork submissions△
-How are artists selected?
Artist applications will be open for one month. Applicants are chosen by moderators after portfolio review.
-how do i apply and what are the requirements?
Artists must fill out an application with a link to their portfolio or social media showing at least 3-5 pieces. Art style does not matter but this zine aims for finished, polished work.
Previous Daft Punk art is not requirement, just pieces that show us what your style and art is like.
There is no age requirement since this project is nonprofit.
Please visit our applications page for more info!
-will the zine include comics?
Yes! Artists will be allowed to submit comics 1 to 4 pages in length.
-can i submit art i've already made?
No. Each contribution must be unique to the project and made specifically for it.
-what can't i submit?
Artists cannot submit explicit content, AUs, crossovers, unfinished pieces, ship art or excessive violence.
-WHAT SIZE IS USED FOR ZINE ART?
Artists will be given a template to use. Their contributions must be in CMYK format for printing and at least 300 DPI.
---
△THE ZINE△
-HOW MUCH WILL IT COST?
Round 2 prices:
DIGITAL BUNDLE: $10
STANDALONE ZINE: $25
ALIVE 2007 BUNDLE: $100
-WILL A DIGITAL PDF BE AVAILABLE?
Digital PDFs will be available. The digital bundle comes with perks such as phone backgrounds, parting words and behind the scenes. The deluxe physical zine bundle also comes with the digital bundle PDF.
PDFs will be available after physical preorders conclude to prevent leaking.
-WILL ITEMS BE AVAILABLE FOR SEPARATE PURCHASE?
(Round 2 update) Standalone merchandise items aside from the zine won't be offered, so we recommend supporting the individual designers should they sell their pieces!
-CAN ARTISTS POST/SELL THEIR PIECE?
Yes, but we ask that they wait until the project is completely finished. Each artist will receive an email go-ahead when they're able to post and sell their contributions.
-DO ARTISTS RECEIVE A COPY?
Each contributing artist and moderator receives a free copy with physical goodies. Shipping is covered.
-CAN ARTISTS BE REMOVED FROM THE PROJECT?
Yes. Participation is a privilege, not a right. Contributors can be removed for antagonistic/offensive behavior, failing to meet several deadlines, plagiarizing their contribution, or intentionally attempting to sabotage the project or other contributors (ex. leaking others' artworks). This is not an exhaustive list.
-WHEN WILL PREORDERS BEGIN?
Round 1: September 25th
Round 2: January 28th
-WHEN WILL ZINES BE SHIPPED?
Round 2: Fulfillment is projected to be in early April.
-WILL YOU SHIP OUTSIDE THE U.S.?
Yes, but all international sales are FINAL. Unfortunately due to COVID international shipping is still experiencing issues such as month-long delays. Therefore, purchases outside the US will not be eligible for replacements because we can not identify when a package has actually been lost in transit. Please be patient with your order and check your tracking for updates!
-WHEN AM I ELIGIBLE FOR A REPLACEMENT?
US orders are eligible for replacement if they arrive damaged or if a missing mail claim has been filed but not resolved.
International orders are eligible for replacement ONLY if they have not arrived within 90 days from initial shipment (after March 10th for round one buyers).
While we'll do our best to resolve an issue when applicable, keep in mind that we are in zero control of packages after they leave our hands!
-what is the cost breakdown?
Our final donation will be made after round 2 of preorders at which point we will provide a full breakdown of all fund allocations.
All profits will be donated to The Trevor Project, a suicide prevention line dedicated to LGBTQ teenagers.